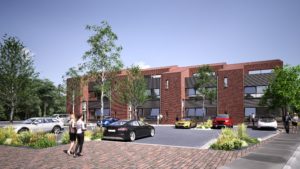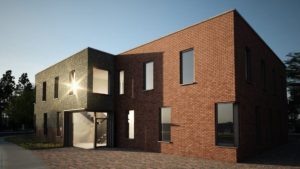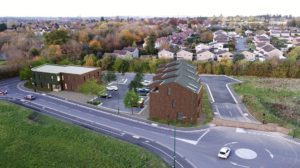 NEW OFFICES PROPOSED AT SHREWSBURY BUSINESS PARK
Alaska Property Group, developers of Shrewsbury Business Park [SY2 6FG] have submitted a planning application for a development of small office units at the Wenlock Road entrance to the Park.
The first release of the development – to be known as One Anchorage Avenue – will comprise four units each of approx. 185 sq m/2,000 sq ft for freehold purchase or leasing.
Alan Hay of Alaska said 'We are really pleased that the uncertainties over the last 3 years have settled and businesses feel that they can no longer delay their occupation needs.  We are now embarking on a programme of optimistic development in response to this new demand'.
Charles Howell of selling agents Cooper Green Pooks added 'with one unit already sold subject to contract we expect considerable interest in the remaining offices from occupiers wanting to buy their own building as well as investors'
Architects for One Anchorage Avenue are Walker Hay Architects from London and the building contractors are Matrix IDC based at Shrewsbury Business Park.
………………………………………………………………….
For further comment contact :
Cooper Green Pooks:
Charles Howell 01743 276664 [email protected]
Or
Alaska Property Group
Alan Hay 07850 787676 [email protected]
10th February 2020