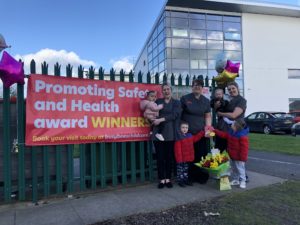 Busy Bees Nursery, based on Shrewsbury Business Park our the winners of 'Promoting Heath and Safety' award.
The Nursery is a children's day nursery situated on Sitka Drive. They provide high quality childcare for children aged from 2 months to 5 years.
They have a fantastic forest schools area at the bottom of our garden which our pre-school rooms love to explore. The children take their Binoculars and clips boards and make notes of all the different creatures and plants that they can find.
The Baby rooms have lovely black and white areas with family boxes for the younger children to explore and develop their different senses.
As a nursery they celebrate all different cultures and festivals, most recently Chinese New Year, where the children and staff have got the challenge of making a life size horse!
Don't forget, as an employee on the Business Park, you will also be eligible for exclusive discounts on your child care fees. Please check out the Park Perks for further details.